In this Aweber review, we take a look at one of the most popular e-newsletters solutions out there. We'll go through the pros and cons of Aweber and discuss its pricing, features, templates, interface and more.
Our overall rating: 4/5
Aweber pricing
There are 5 Aweber plans on offer — the pricing is as follows:
Hosting and emailing a list containing up to 500 subscribers: $19 per month
501 to 2,500 subscribers: $29 per month
2,501 to 5,000 subscribers: $49 per month
5,001 to 10,000 subscribers: $69 per month
10,001 to 25,000 subscribers: $149 per month
If you have 25,000+ subscribers on your mailing list, Aweber will need to give you a personal quotation.
A 14% discount is available if you pay quarterly; a 15% discount is available if you pay annually. There are also some student and notn profit organisation discouns avalable.
One aspect good thing about AWeber is that all features is avalable in all pricing plans — unlike in som competitors plans, you dont have to pay more to get more. The pricing only differs with mailing list size.
That said, the functions in Aweber is not necessarily as extensive as you might find in competing email marketing solutions.
Key features of Aweber
Aweber provides you with the following key features:
The ability to import / host an email database
a wide range of templates
autoresponders
some (basic) marketing automation functionality
responsive email designs
reporting
split testing
RSS / blog to-email functionality
list segmentation options
phone, email and live chat support
integrations with third-party apps
Importing data into Aweber
Importing an existing database into Aweber is an easy fix.
You can upload the following file types:
Alternatively, you can do it maualy, or copy and paste them in to Aweber.
When you import your data, you get the option to add the subscribers to particular autoresponders, and give them a tag.
Not all competitors alow your own adition to the list.
To prevent spam, they will ask you some questions about how you collected the emails you want to ad.
If your list is lagrge(Over 10.000 adresses), you may also have to wait until Aweber's anti-spam compliance team has reviewed it (as is the case with other email marketing tools).  This can take up to one business day.
In short, Aweber's importing functionality is good — no complaints here.
Templates
Aweber provide one of the largest sets of templates for e-newsletters available: there are over 700 available.
Getresponse have around 500, Mailchimp around 80 and Campaign Monitor arond 50.
Toe be honest, there is many competitors out there, but noone of them has anything what Aweber have.
The sheer volume of avalable templates means that with a bit of tweaking youwill be able to find one for your e-newsletters. Of course, there is always the option of coding your own too.
Responsive email designs
Aweber's email templates are all 'responsive'.
They automaticaly chage their size according to the devize they are being showed on. In todays computer and smatphone world, this is an essential feature.
Within Aweber you can easily review a smartphone friendly version of the newsletter you are going to send — you just click the preview button and toggle a 'mobile preview' switch to see how your e-newsletter is likely look on a smartphone. (It's still a good idea to send some test emails however, and check them on a mobile phone or tablet).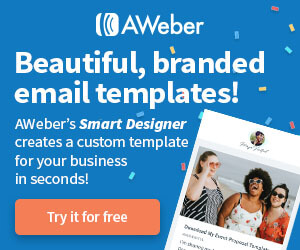 Using web fonts in Aweber templates
In Aweber, unlike many other email marketing programs, you can use webfonts.
They are usually more atractive than the normal fonts (Times New Roman, Arial etc.) so that's a good thing. Email marketing apps often restrict you to; judiciously used, but the webfonts can enhance the appearance of an email considerably.
Depending on the typefaces you use on your website, they can also help you achieve more brand consistency between your site and e-newsletters.
Aweber currently allows you to use the following fonts in your emails:
Arvo
Lato
Lora
Merriweather
Merriweather sans
Noticia Text
Open Sans
Playfair Display
Roboto
Source Sans Pro
Permanent Marker
In general, it's a thumbs up for Aweber's templates, with extra points awarded for the inclusion of web fonts.
RSS to email templates
Like other similar e-marketing products, Aweber can take the RSS feed from your site and make e-nevsletters from it that get sent out according to the scedule you define. This is called 'Blog broadcasts', in AWeber, although you can use it for any content that has an RSS feed.
This is very handy for bloggers that wants to send out a email newsletter with your last blogpost every time you make a new one.
It's worth noting that when you send out a blog brodcast you can only use afew templates that has been specialy asigned for this purpose.
On the plus side, you have very many to choose from, so there is no shortage.
On the down side, many of them is very ugly, and you cant choose the normal drag and drop creator to change them. you have to struggle with one that is't that friendly to use.
You will get there, but it probanly will take some extra time and effort, so I think there is defenetly some room for improvement here.
Autoresponders
You can set series of follow up emails that are automatically triggered by either time or user actions that is caled autoresponders, and they are a key part of any e-marketing solution.
Aweber claims to have invented autoresponders back in 1998 and as such you'd expect their autoresponder functionality to be very good, but it is just OK.
The plus side is that it is very easy to set up the autoresponder according to time intervalls — for example, automatically sending subscribers an onboarding email immediately after sign up, a promo code 2 days later and a 'follow us on social media' email a week later is extremely easy. This is a typical use of autoresponders and it's a breeze with Aweber.
The down side is that you have very few options for the set up of the autoresponder.
Using Aweber, you can create 'goals' or combine automation rules with tagging to make autoresponders behave in reasonably sophisticated ways…but if you want to make use of autoresponders in really advanced ways, you'll probably need to look at other products, particularly Getresponse, which provides extensive 'marketing automation' functionality.
Opt in processes
A good thing with Aweber is the flexibility it gives you around how you handle the opt-in process.
You can choose either a single opt-in or a double opt-in basis (single opt-in is when a user is subscribed immediately after completing a form; double opt-in is when they have to click on a link in a confirmation email to complete their subscription).
Both approaches are good, so it's nice to see Aweber being flexible in this regard — not all competing solutions (examples including Zoho and Squarespace's Email Campaigns) provide their customers with this choice.
Integrations with third party apps
Aweber offers range of integrations with other solutions. There are hundreds of integrations available which allow you to connect Aweber to various types of cloud-based software — web builders like Wix or WordPress; CRM tools like Salesforce; landing pages like Instapage and so on.
Some of these involve dedicated widgets; others involve adding a snippet of code into a website; others involve a sync tool like Zapier or Pie Sync.
It's rare that Aweber will plug into other software quite as seamlessly as Mailchimp (which seems to be the default 'standard' email marketing option for a lot of apps), but you shouldn't have too much difficulty getting Aweber to work with a wide range of other SaaS (software as a service) apps.
Aweber support
Aweber's support is one of the best features of the product.
Phone support, email support and live chat support is all available — this compares very favourably with some key competitors including Getresponse, Mailchimp, Campaign Monitor and Mad Mimi, none of which offers phone support.
Additionally, there's no hoops to go through to contact support: relevant phone number and email details can be viewed very easily on the company's contact page, without any requirement to trawl 'knowledge bases' or fill in any forms beforehand.
On top of that, the company has won several Stevie Awards for customer services over the past few years, which augurs pretty well for the quality of the support you'll receive when you contact them.
If you are a novice to email marketing, then this sort of easy access to good-quality support is a strong argument in favour of using Aweber as your email marketing provider.
In terms of the availability of support, you can contact Aweber's phone support team from 8am-8pm ET Monday to Friday, and their email and live/chat support is available 24/7.
Conclusions
Over all Aweber is a solid email marketing tool
It is not the best one, but it is reasonably priced and have features that get yu going with email marketing.
The thing that will pont me in the Aweber direction ist the userfriendlynes and the good suport. The suport thing is particularly important for beginners in email marketing, but is also a good help for the more experienced.
In adition Aweber is not so expencive compaired to other cometitors.
The only thing that would make me jump on the brakes a litle bit is the quite basic automation features in Aweber.
I hope you've found this Aweber review helpful, an dont hesitate to ask questions about the program in the coments section below.